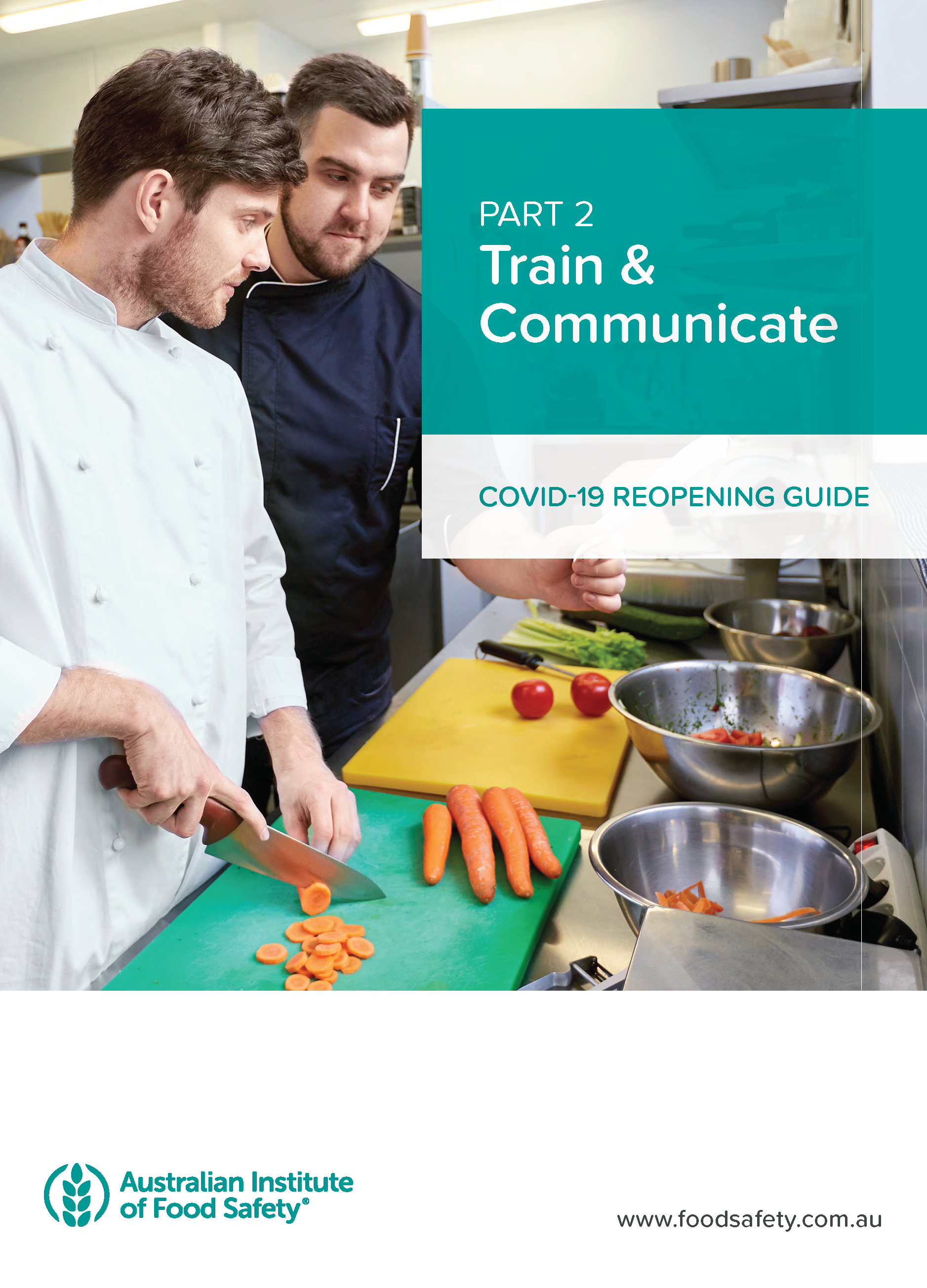 Welcome to the second guide in our three-part series on reopening your food business safely following COVID-19 shutdowns. 
In this guide, we're taking a closer look at the people side of your business — both your employees and your customers — and what training and communication is needed in order to reopen safely. 
In the other parts of this series, we outline how to prepare to reopen your business after the shutdown, as well as practical actions you need to take to operate in the 'new normal'. 
Use the time before reopening to train your team and make sure they have the knowledge and skills to operate safely. Training falls into two broad areas — COVID-19 training and food safety training. 
COVID-19 TRAINING 
Employees must receive COVID-19 specific training before reentering the workplace. Topics to be covered should include: 
Symptoms of COVID-19 
Instructions for calling in sick if COVID-19 symptoms are experienced 
What to do if someone is displaying COVID-19 symptoms in the workplace 
Proper hand washing technique (including the use of hand sanitiser) 
Correct use of personal protective equipment (PPE) 
Workwear rules including laundering requirements 
Back up this training with signage and posters to remind and reinforce important points. 
The Australian Institute of Food Safety has partnered with RespondFirst to offer the COVIDSafe™ Professional Program. This program includes an online training course, signage, checklists, guides and other resources that will prove useful to food business managers and workers during the COVID-19 pandemic and beyond (see www.respondfirst.com.au for details). 
FOOD SAFETY TRAINING 
Food safety training focuses on 3 main areas: cleaning and sanitising, time and temperature control and personal hygiene. The purpose of this training is to reduce the number of dangerous pathogens in food to a level where they're no longer harmful to human health. The same principles apply to destroying the coronavirus that causes COVID-19. 
Not only is food safety training mandatory for food workers in most Australian states and territories, it's essential for protecting customers' health and subsequently protecting your business. As a general rule in Australia, at least one person per shift must have undergone nationally recognised Food Safety Supervisor training, and anyone that works with food in any capacity must have undergone food safety training — such as a Food Handler course. 
Food Safety Supervisor and Food Handler training courses are offered online and can be completed in less than a day with the Australian Institute of Food Safety. These courses have been adapted to include COVID-19 resources, and also include a complimentary 12-month membership through which regular updates are sent about the COVID-19 pandemic (see www.foodsafety.com.au for details). 
Training your team in COVID-19 prevention and food safety will give them the skills they need to protect your customers and your business.
Enforce Employee Personal Hygiene
Personal hygiene of employees has never been more important. The coronavirus that causes COVID-19 is easily transmitted via human-to-human contact and so employees must take all steps necessary not to infect coworkers or customers at the business. 
It's recommended to have employees sign off a health check form at the start of each shift. In this form they must confirm that they: 
Know the symptoms of COVID-19 
Are not currently experiencing any symptoms of COVID-19 
Have not been in contact with anyone who has COVID-19 
Are not waiting for the results of a COVID-19 test 
Have not travelled outside the local area within the previous 14 days 
Each signed form should be stored in a secure location for a minimum of two years. 
Some food businesses around the world are starting to combine these pre-shift health declarations with employee temperature checks. Check with your local authorities to determine regulations and whether you're permitted to do this. If you are using employee temperature checks, bear in mind that these are not foolproof and a person may be infected with the coronavirus and not experience a fever. 
Finally, appoint a COVID-19 Safety Person on every shift. This person is responsible for collecting and storing health declarations, and ensuring that personal hygiene and other COVID-19 protocols are being adhered to.
Communicate with Customers
Customers are likely to be hesitant and a little afraid about dining out and visiting food businesses for a while yet. However, there are steps you can take to reassure them and make them feel more comfortable with the experience. 
SIGNAGE 
Signage at the entrance of your business helps to reassure customers that they're making the right decision entering the premises. Recommended signage includes: 
A poster explaining the symptoms of COVID-19 and asking customers not to enter if they're experiencing these symptoms 
A warning sign explaining that customers who appear ill or are displaying symptoms will be asked to leave 
Employee training certificates showing that your team are trained in COVID-19 and food safety (members of the Australian Institute of Food Safety also receive a window decal showing that the business is 'Serious About Food Safety') 
WEBSITE AND SOCIAL MEDIA 
Use your online presence to let customers know that you're taking their health and safety seriously. Let them know when you're reopening, any changes you're making to your business operations and any steps that you need them to take before visiting your business (e.g. if you need them to wear PPE when visiting the premises). 
With social media, don't just make one post and then forget about it, instead post something every day or two to make sure your posts appear at the top of the news feed and top of mind. 
It's important not only to focus on COVID-19 information on your website and social media, but also to share some light entertainment to get customers excited about visiting your business again. For example, you may consider posting photos of new dishes you're planning on adding to the menu, sharing a recipe that can be made at home, holding a live 'Ask the Chef' session or similar. 
EMAIL AND POSTAL COMMUNICATIONS 
If you have a customer database, use it. Send personalised emails or letters to customers letting them know what you're doing to protect their health and safety, and use the opportunity to send personalised invites for them to return or to inform them of any special offers. Loyal customers will be pleased to see that your business has survived the pandemic and will be keen to help your business if they're in a position to do so. 
Address Customer Concerns
Customers are understandably nervous about consuming food that they haven't prepared themselves and eating outside of the home. Talk to your customers (on-site or through online channels) to learn what their concerns are and take steps to address them and communicate the changes you've made. 
Here are some examples:
If proximity of other customers is an issue, then lay out floor markings to show physical distancing has been considered and for dine-in venues, remove tables and chairs to emphasise the spacing between customers. 
If customers are concerned about multiple server interactions, then look at apps that allow them to order and pay using their mobile phone meaning that the only interactions with servers is when they bring food to the table. 
If food safety practices in the kitchen is a concern, then install cameras that can be live streamed to the front-of-house or to mobile phones so that customers can observe their food being prepared. 
If using credit card machines is causing customers to worry, then promote the use of contactless payments and sanitise the machines in front of the customer before and after every use. Offer hand sanitiser to customers to further alleviate concerns. 
If your customers are worried about using cutlery that's been used by previous customers, then invest in high quality disposable cutlery and use this for a few months until fears start to subside and previously accepted dining norms are once again in place. 
If your business offers buffet or self-service options and customers are concerned about these, consider a different business model such as in-seat service as a temporary solution. 
If touching door handles and other surfaces is a concern, sanitise these frequently and visibly in front of customers. Offer hand sanitiser to customers at the entrance to the premises and at their tables for dine-in restaurants. 
Customer concerns will differ from business to business and so it's important to talk to your customers to learn what their specific needs and concerns are rather than relying on anecdotal evidence from other food businesses or the mainstream media.